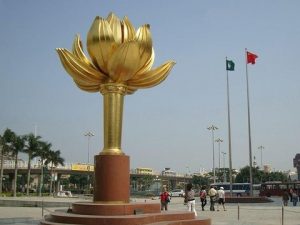 Standing in Lotus Square next to the Forum, the large sculpture of "Lotus Flower In Full Bloom" presented by the State Council of China in 1999, marks the return of sovereignty of Macao.
一九九九年十二月二十日,澳門回歸祖國的第一天,由中國國務院贈送的大型鑄銅貼金雕塑"盛世蓮花"於綜藝館前金蓮花廣場揭幕。
The lotus flower, which is in full bloom, symbolizes the everlasting prosperity of Macao. There are three layers of red granite at the base, which are in the shape of lotus leaves, signifying the Macao Peninsula, Taipa Island and Coloane Island.
蓮花盛開象徵澳門永遠繁榮昌盛。三層紅色花崗岩相疊的基座,形似蓮葉,寓意澳門三島。
Address: Rua Luís Gonzaga Gomes
Carey~
---
NINE&PICTURE'S ホームページ はこちら