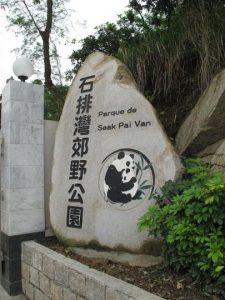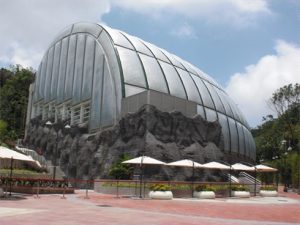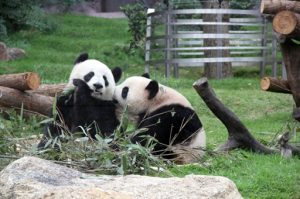 澳門大熊貓館位於路環石排灣郊野公園內,建築占地約3000平方米,整個建築利用現有的地形結合建築的特性進行設計,依山而建,呈扇形的分佈。
Nestled against a hill side in Seac Pai Van Park in Coloane in a fan-shaped layout of about 3000m2, Macao Giant Panda Pavilion is designed to take advantage of combining the terrain's natural undulations with the architectural characteristics.
大熊貓館的外觀造型設計以仿自然為主,活動場的圍牆以仿山石包裹,營造一個自然山水環繞的大熊貓的活動場地。館內設有兩個面積各約330平方米的室內活動區和一個面積約600平方米的室外活動場,以供大熊貓活動之用。而為了大熊貓的生活需要,館內還設有大熊貓的後勤中心,包括獸舍、竹子清洗區、竹子儲存庫、飼料準備室、飼料儲存庫、監控區和醫療室等…
The pavilion comprises two 330m2 indoor activity quarters and a 600m2 outdoor yard for the inhabitation of the giant pandas and a 900m2 indoor exhibit area. Two viewing paths of different elevations align along the front edge of the fan-layout indoor activity area, accessible to two streams of visitors. Internal facilities include a logistic centre with panda dens, bamboo-washing and storage quarters, feed preparation room, feed warehouse …
Address: Macau Giant Panda Pavilion, Seac Pai Van Park
Opening hours: 10 a.m. to 1 p.m., 2 p.m. to 5 p.m. (last admission until 4:45 p.m.). Closed on Mondays, admission at 6 intervals per day; Closed on Tuesdays if Monday is a public holiday.
Please purchase tickets in advance due to the limited number of admission.
resources: http://m.macaotourism.gov.mo/index.php
---
NINE&PICTURE'S ホームページ はこちら