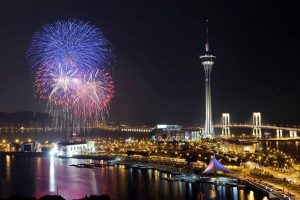 In the aftermath of typhoon Hato, the entire city is committed to various tasks for restoration and recovery from the catastrophe. On the other hand, the related infrastructure and facilities required for fireworks displays have suffered damages, while different departments and entities supporting the fireworks event are now dedicated to tackling the aftermath. Considering the above circumstances and various factors, Macao Government Tourism Office (MGTO) announced today (26 August) that the 29th Macao International Fireworks Display Contest is officially canceled. This arrangement is expected to affect visitors and members of the private sectors concerned, whose kind understanding is deeply appreciated.
颱風天鴿後全澳投入救災,涉及煙花表演所需的基建設施亦有受損,加上支持澳門國際煙花比賽匯演的多個部門及單位需要參與風災後的工作,故綜合考慮各方因素,旅遊局今(26日)宣佈取消第29屆澳門國際煙花比賽匯演。此安排將對相關業界及旅客帶來影響,敬希見諒。
In addition, the Fireworks Carnival, Trophy Design Contest, Photo Contest and Student Drawing Contest of the 29th Macao International Fireworks Display Contest are canceled in accord.
此外,火樹銀花嘉年華、第29屆澳門國際煙花比賽匯演的獎盃設計比賽、攝影比賽和學生繪畫比賽亦一同取消。
resources:http://m.macaotourism.gov.mo/
---
NINE&PICTURE'S ホームページ はこちら